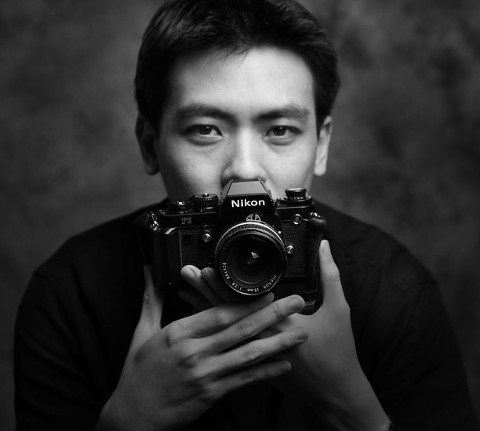 Since I was very young, I was never really good at science, math, or literature.
I was good at paintings and drawings and I was pretty good at sports too. I was never bored with these things.
I chose to sleep or play with my playstation over a math assignment,
but I was fine if i had less sleep for a drawing or painting assignment.
I sometimes took home my classmates' painting assignment because I wanted to paint more.
When I was in final year of senior high school, I represented the class to give a farewell present, a drawing of
Ibu Irene's face, our beloved class teacher at Regina Pacis High School, Jakarta.
I think I made a good job, she was so touched, she couldn't hide it and it was one of those turning points in my life.
For the first time, I knew what it felt when someone really appreciated my work of art.
So my first camera was Nikon F3, one of the best during its time.
My Father bought that camera the day I was born, he rarely used it so we had to fix it
before I started my study abroad. I left home in 2000 for about 4 years, I took my diploma in Arts and
my undergraduate in Film and TV production at University of Westminster, London.
It was during this period I knew that my camera's more than a buddy, it's almost like a soulmate.
During a Spring break or Christmas break, I often backpacked to other European cities on my own for sightseeing or
for a football match and never forgot to take my camera along. Traveling were always fun, whether it was sitting on a bay watching sunset, walking on the hill or celebrating a goal in a football stadium. But i guess without my camera,
it would have been less exciting. I think travel photography was my first love.
However, it wasn't only during travels, in everyday life at the dorm or college,
it captured every bit of my journey, what I saw and what I felt.
Seeing things behind a camera gave me a different perspective, sometimes it made my heart beating faster,
a lot of times I found happiness and I think this could be a start of something.
I discovered during the university time, when we put pictures together with music and soundtrack,
it brings out the emotion even more.
Motion pictures moved my heart easily. It's a magical feeling!
Movie is the perfect thing to please my eyes and feelings. Soon, i realized my second love was movies. I watch hundred of movies both for assignments and for leisure. We all knew Hollywood, French, British have made great movies, but good movies were everywhere. And if you assume country like Iran or Algeria can't make good movies,
then you're mistaken. They've made movies as good as the Hollywood's, sometimes even better. Watching movies is fun, but making movie is a lot more fun!
University taught and trained me well, it sharpen my eyes as a future cinematographer.
Initially I wanted to have a career in Film or TV industry after I returned home.
But later on I realized that in life things didn't always go they way you wanted to.
Doing portraits or wedding pictures was never a part of the original plan but I always gave my best every time I had the opportunity and just let God do the rest. I've learned a lot since I first work as a professional in 2004.
I only think how to move forward, so I learn and improve my work all the time.
The main goal is to please other people and myself at the same time.
It never changes and will never change.
Yours Sincerely, Andrew